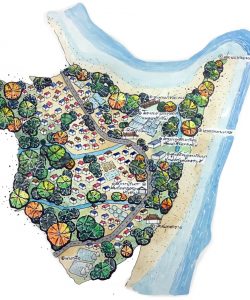 The Project on Restoring Green Areas in Bang Kobua , Phra Pradaeng, Samut Prakan or "Bang Kachao".
Laem Phak Bia
Laem Phak Bia Environmental Research and Development Royal Initiative Project.
Tubkwang
Tubkwang Research Station,Kasetsart University.
Doi Pui
Doi Pui Research Station.
"The development of the country needs to be done in a hierarchical manner. A foundation of sufficiency of most people is required as a preliminary by using economical methods and equipment, while being theoretically correct. When achieving a solid, moderately ready and practical foundation, the prosperity and higher economic status then gradually develop in the next order. Focusing only on building prosperity and economy quickly without consistent action plans with the state of the country and people will cause imbalances in matters, which can eventually lead to disruption as can be seen in many civilized countries that are facing current severe economic problems"
Royal Guidance in the commencement ceremony of Kasetsart University at Kasetsart University Auditorium.

Thursday, 18 July 1974